Madden 23 Current Gen Tips And Tricks: Beginners NEED This
Madden 23 current gen (ps4 and xbox one) is a complex strategy game. 
You aren't alone if you aren't sure where to get started.
Almost all beginners and Madden vets that I've coached over the past 11 years have had 4 main issues. 
I'll share my story with you later on on how you can catapult yourself to a competitive player even if you work 70 hour weeks.
Your 4 Step Beginners Guide For Madden 23 Current Gen (Tips):
1. User a safety at linebacker
2. Learning quick adjustments
3. Ability to read coverages
4. Understanding pull routes
1. User a Safety At Linebacker
It is normal to fear blowing a coverage usering someone other than a defensive lineman.
And at first, you WILL give up some big plays from blowing a coverage assignment.
However, if you want to become more competitive, you will be at a major disadvantage if you do not learn to user a safety at linebacker. 
Linebackers do not animate well so you need to sub in a safety at linebacker in a nickel set.
A good user can take away multiple routes at once unlike the CPU. The person you user should be the best player on the field because of the ground that can be covered.
Whereas the CPU zone defenders have a small radius that they stay within.
Transitioning to usering a safety will cost you in the short-term but staying on a defensive lineman will hold you back forever.
2. Learn Quick Adjustments
You could have the best anticipation and problem-solving abilities in the world but if you do not have quick adjustments mastered, those skills are IRRELEVANT.
Quick adjustments allow you to adjust ANY defender on the field while staying on one player. 
If you want to "quick adjust" someone in the secondary, double tap "Y" or "triangle.
To "quick adjust" a linebacker, double tap right on d-pad. To "quick adjust" a defensive lineman, double tap left on d-pad (camera toggle must be off in settings). 
Instead of switching to each defender to adjust them, now you can adjust many players at once at lightning quick speed (once mastered).
I highly recommend going to practice mode for 30 minutes a day to practice speeding up your quick adjustments until you can pull off several quick adjustments before the snap. 
3. Ability To Read Coverages
Are you calling plays at random or not sure exactly why you are calling those plays?
Are you aware that you should be reading the outside cornerback and safety on one half of the field within one second that the ball is snapped?
Those reads allow you to visually imagine the defensive playart.
Think of it like taking a picture with your phone that gets stored to your phone's memory for later use.
You want to take a picture of the defense (with your mind) as soon as the ball is snapped and store that picture for use later in the game.
Then once you can picture the adjustments to the defense, you need to understand how to conceptually attack that coverage. 
If you are not following this process, you are costing yourself many points.
What makes the world's best offensive players so consistent and confident on offense, is their ability to always know what the defense is doing and how to conceptually attack it. 
4. Knowledge of Pull Routes
Ever wondered how players got those deep one play touchdowns where the defense was no where to been seen?
They were probably using pull routes. Pull routes are a route that occupy a zone defender to open up another route on the field.
Think of them as a decoy route.
So if you want to get your crossing routes or corner routes open consistently, you need to use streaks to occupy the deep zone defender on the side you run your crosser to. 
Take "Verticals" for example from Gun Bunch. The streak/fade route from the solo side receiver will run the deep blue(s) off.
That will allow for the crossing route to get underneath the deep blues. In Madden, the job of the deep blue defenders is to guard the first threat running deep.
If you replace that fade route with a drag, the crossing route would be the first threat running deep so the deep zone defenders would guard the crosser. 
Your Next Urgent Step: Finding A Madden Mentor
(Discover How This Will Transform Your After Work Life In 3 Days)
Like you, 12 years ago I was on Youtube and Google searching for the best money plays.
I was made to believe learning money plays was the best way to go to become competitive.
Shit, that was all you saw on Youtube back then was "UNSTOPABBLE 1 PLAY TD GLITCH VS. EVERY COVERAGE."
And sadly, that is all creators post now yet its not teaching you the strategic aspects of Madden (unless you to sub to TheMaddenAcademy).
It wasn't until I met a mentor (who ACTUALLY knew Madden) 9 years ago that my entire view of Madden shifted.
Up until meeting my mentor, "AthleticCedes" – winner of tens of thousands from $ games, I was convinced all I needed was money plays to succeed.
And for those 3 years before becoming a top player, those money plays I ran worked vs. EVERYONE.
I used to take so much pride in being ranked #3 on the regs leaderboard.
Then when I played my first ever TRUE competitive player, who then became my mentor…
I learned I didn't know SHIT. The competition I had been playing SUCKED. I wasn't nearly as good as I thought I was.
AthleticCedes won by 354023941234098 the first time we played.
Luckily, he was nice enough to talk with me in party chat after. He taught me everything he knew.
He introduced me to an entire new world of players (the competitive scene) and got me in the door.
Without ever talking to him, I doubt I ever go on to win 3 world titles at the professional level.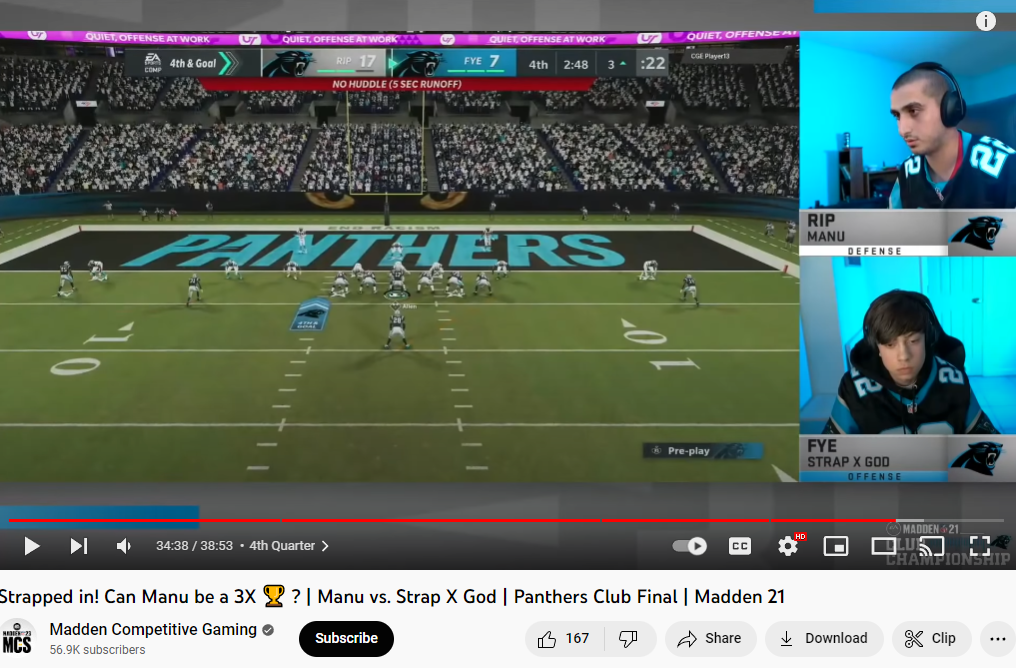 I wasted over 3 years of my time seeing Madden the wrong way. I had the skills, but wasn't aware of the 12 strategic fundamentals at the time.
Not to mention the frustration it would of prevented if I met a true mentor earlier.
The untold truth is: EA's game has become so complex they can't even teach it themselves. That skills trainer has been outdated for years.
So its not your fault that you haven't been aware of the 12 strategic fundamentals.
But today is your lucky day because you finally found yourself in the right place at the right time.
Your days of getting off work just to get home and be pissed at the game are over.
No more "I'M OFFICIALLY RETIRED FROM THIS DUMBASS GAME." *Comes back to it 2 days later*
What my mentor did for me years ago, I will do for you right now. Let you in the door, for free.
I created a Madden 101 course (originally was $95) for you for free but only for a limited time so sign up now.
This is your once in a lifetime ticket into the world of competitive Madden.
I reveal to you a step by step plan that I used to win $57,653 off Madden professionally that you can apply to your game immediately.
To be blunt with you, if you walk away from a free opportunity like this, you WILL regret it for the rest of your playing time.
You will always be left guessing if what you are doing things the right way. I am bringing you certainty.
Sign up now below or to the side before this free offer is gone.
I am so confident you will love the free course and find immediate benefit in it that I will send you $25 if for whatever reason you don't love it.
Curious to see where your Madden skills stack up?Take our FREE evaluation quiz at: https://themaddenacademy.com/skills-evaluation