How To Play Defense In Madden 24 In 3 Steps
How To Play Defense In Madden 24:
Zone drops, zone drops, zone drops.
After you finish reading this – zone drops (in coaching adjustments) will be your best friend.
I'm a 3x Pro Madden Champion (comp name is Manu) so I'm asking you to trust me here.
DURING a real game (before picking a play) you can pull up "coaching adjustments" by clicking in on your right stick.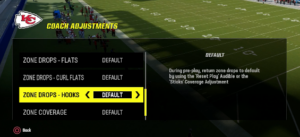 Now you're probably thinking – "Why do you love zone drops so much?"
Well in Madden imagine yourself as the defensive coordinator of your team…
You"ll be the one directing your to defense guard certain spaces on the field depending on where you anticipate the offense to throw.
Zone drops gives you the most control in directing your defense.
Let's dive in deeper…
The 3 Step Process For How To Play Defense In Madden 24:
Master zone drop "flats"
Master zone drop "curl flats"
Master zone drop "hooks"
1. Master Zone Drop "Flats"
Imagine you're playing vs. the ever so popular corner/crosser route spam.
(The 2 best routes in the game)
Ask yourself: How long do these routes run from the line of scrimmage?
Generally crossers/corners run about 25-30 yards.
Then you want your zone drop flats to match that number because your flat zones will then drop back 25 yards from the line of scrimmage.
See what I'm saying?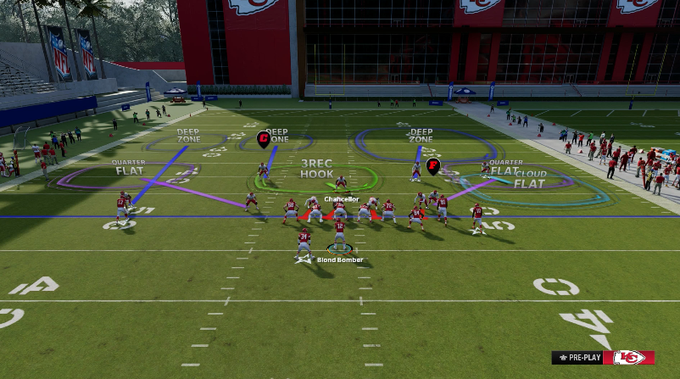 Back Off Your Outside CB too.
(Y/Triangle, X/A "individual, Select WR of which your DB is over to back off, then up on right stick to back off)
Unfortunately pressed defenders on next gen don't accelerate backwards in time to guard corners
So that's why you need your CB individually backed off for a flat to play the corner.
And yes it'll take time to master these "quick adjustments" such as individually backing a CB off.
It took me about 2 weeks to get em down but once you got em down it's with you forever and it's WELL worth in the long run.
2. Master Zone Drop "Curl Flats"
Now you should be thinking – wouldn't I give up a big gain underneath if i set my zone drop flats to 30?
Yes, indeed you would.
That's why I recommend you set your "curl flats" in accordance with your "flat" zone drops.
So I'll usually have my "curl flat" zone drops set to "5" so I don't give up a huge chunk underneath my flat zone.
Make sense?
You can use my concept out of ANY play but if you're new in getting used to the quick adjustments…
I recommend basing this out of a "Cover 6" play because all the adjustments will be done for you already besides individually backing off the CB in the flat zone.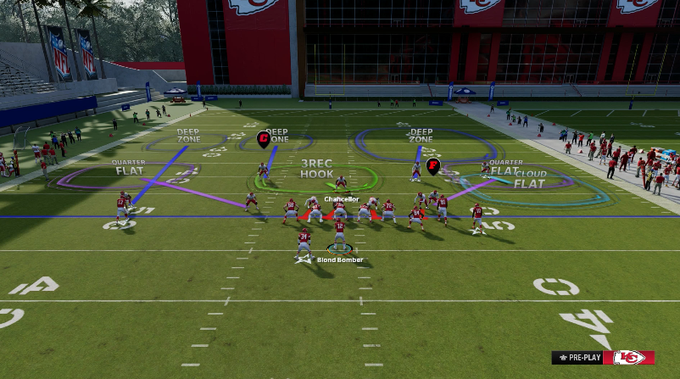 3. Your Anticipation Is a HUGE Factor In Playing Good Defense
Anticipation = how accurately you can predict what play is coming next.
How do you do this?
I ask myself 2 questions:
Are they repeating specific playcalls based on down and distance? Example: Inside run every 1st down
What spaces of the field are they primarily attacking? Adjust your zone drops accordingly based on which spaces you are being attacked most.

Ex: Flats and curl flats on 30 and 5 if attacking deep sidelines. Hooks on 5 if spamming short passes to middle like 2 drags.
Now anticipation is a very high level skill to acquire and master.
It'll take time and the proper guidance to master this skill in a reasonable amount of time.
And I don't think you want to read a 10,000 word essay on how to play defense in Madden 24 with magical anticipation from me.
So I highly recommend you get started on my free course below to get you started on becoming an adjustment master in 4 months.
Madden is a very visual game so that's why I'll reveal to you my 9 Spaces System that'll completely revolutionize your understanding of how to see the Madden field.
(Yes this'll help you drastically with adjusting as you'll be able to visualize which of the 9 Spaces you're being attacked in)